Automated Pipe Spooling
IRCO Automation delivered a power elevating weld system designed to manipulate pipe up to 48" in diameter. The system includes two power elevating Pipe Rotators (headstock positioners) and four x 10,000 lb power elevating Support Idlers.

Pipe Spooling Customer Requirements
The Pipe Spooling customer was looking to speed up their production process and IRCO engineers were tasked to improve the throughput, ease of use and ergonomics of their welding process. In addition, the client requested the system to be future-proofed and allow for integration of a fully automated weld procedure at a later date.
Power Elevating Head Stocks & Pipe Stands
The system simultaneously builds two separate pipe spools and then joins them when completed, without having to employ a crane. Two custom IRCO Column & Boom Manipulators (not shown) traverse the cell and weld the pipe using Submerged Arc Welding (SAW). Because the customer is located on the Gulf Coast, IRCO used a special marine grade paint, and specially coated guidance rails to help prevent corrosion.
Integrated PLC Controls
A robust Allan Bradley PLC controls all functions of the work cell. Pipe diameter, rotational/welding speed and ergonomic working height are all pre-programmed to move in a coordinated, controlled sequence. A large digital display, located on the wall, shows real-time information so managers can quickly verify the correct weld procedure is being used.
Features and Benefits: Power Elevating Pipe Spooling System
Four 10,000 lb power elevating pipe idler supports, and two power elevating Pipe Rotator Headstocks
The enhanced rotational torque and speed of the Pipe Rotators allow the system to support a variety of welding
operations and pipe diameters
The tall centerline enables the large swing radius needed to clear pipe elbows and other attachments
Marine grade protective coatings protect the machinery in the ocean side environment
Automated setting of height and speed allows for a repeatable, efficient, and ergonomic work environment
A fully integrated and upgradable PLC controls system allow for future upgrades to an automated procedure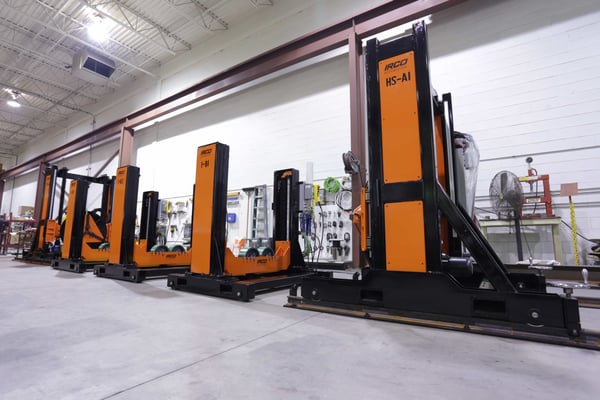 10,000 lb Power Elevating Support Idlers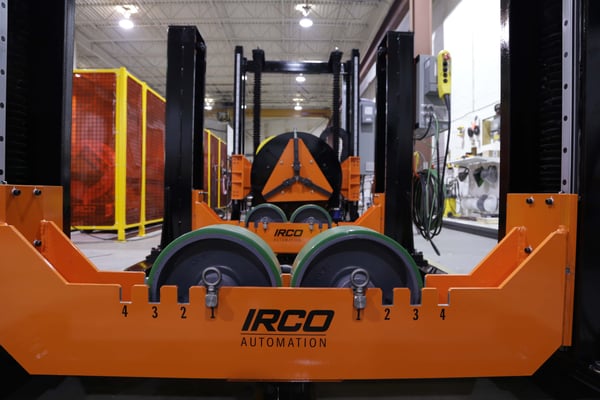 Headstock Positioners
For more information please contact:
www.ircoautomation.com | info@ircoautomation.com
800.742.1175