News: IRCO Automation Delivers Custom Heavy Weld Positioner for Brazilian Army
IRCO has partnered with BAE Systems to design, engineer, and manufacture a new 24,000 lb, P3X Heavy Weld Positioner for the BAE M113 APC (Armored Personnel Carrier) upgrade & refurbishment project in Curitiba, Brazil.
Scroll down to learn more about this custom heavy weld positioner.
The P3X-24 Positioner allows the operator to lift and rotate the M113 chassis to the optimal height and angle for welding and fabrication. The IRCO designed fixture holds the chassis securely in place. This fixture includes an operator platform, plus electrical and pneumatic service hookups for increased worker productivity and safety.
This partnership is an indirect ITB project in conjunction with BAE Systems Upgrade of Bofors 57mm Naval Gun on Halifax Class Frigates.
P3X—Heavy Weld Positioner
Manufactured exclusively by IRCO, the P3X is a three-axis welding positioner which can include an optional fourth axis of movement. The unique hydraulic design supports heavier payloads at greater offsets than conventional positioners while providing unsurpassed accessibility. Multiple armed forces around the world have chosen the P3X to help them upgrade and refurbish their armored vehicles & personnel carriers. Ideal for heavy, complex weldments; the P3X is used in the fabrication of large equipment for mining, farming, and heavy industry.
IRCO's P3X-24 Features and Benefits Include
The ability to lift and rotate up to 24,000 lb
Limiting the tilt feature for increased worker safety
Specialty fixture to attach the M113 chassis for refurbishment
Integrated worker platform to allow safe and ergonomic access to the work zone
Electrical and pneumatic service hookups for worker tools
Simple, intuitive controls for safe lifting and rotating (body mounted & tethered industrial pendant)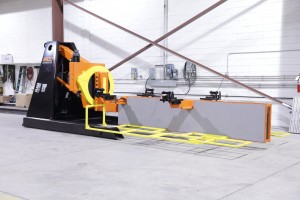 P3X - Heavy Weld Positioner in lower position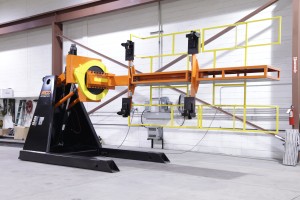 P3X - Heavy Weld Positioner in side position
For more information please contact:
www.ircoautomation.com | info@ircoautomation.com
800.742.1175