TRSA: Self-Aligning Turning Rolls
This week's feature product is the TRSA: Self-Aligning Turning Rolls. Our latest set was sold as part of a tank fit-up system that will be used to build custom storage tanks for industrial applications. IRCO's Self-Aligning Turning Rolls are designed to support tanks, vessels or large diameter pipes and can handle weights of up to 750,000 lb.
Automatically Adjust to Different Tank Sizes
The TRSA rolls automatically adjust to safely support different pipe/tank diameters. This saves time by eliminating the need to reposition the Turning Roll wheel's center when moving to different diameters.
More Surface Area Gripping the Vessel Section
The four-wheel swing design means there is more surface area in contact with the vessel section. This provides better grip and support when turning large vessels.
Integrate with PLC/HMI Controls and/or a full Fit-up System
The Self-Aligning Turning Rolls come standard with a pendant control. IRCO often integrates self-aligning turning rolls with axial powered travel, CBWM-Manipulator's and material fit-up systems to further improve manufacturing efficiencies.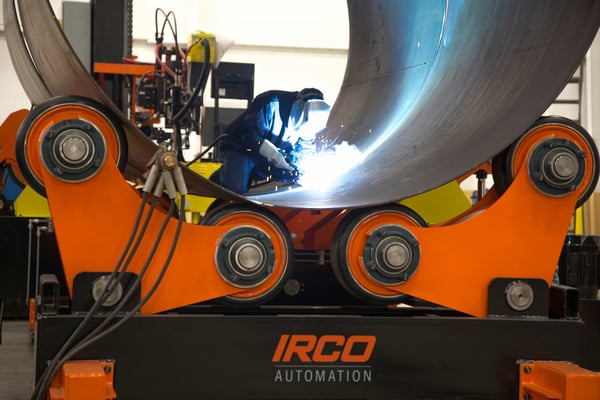 TRSA-45 Self-Aligning Turning Rolls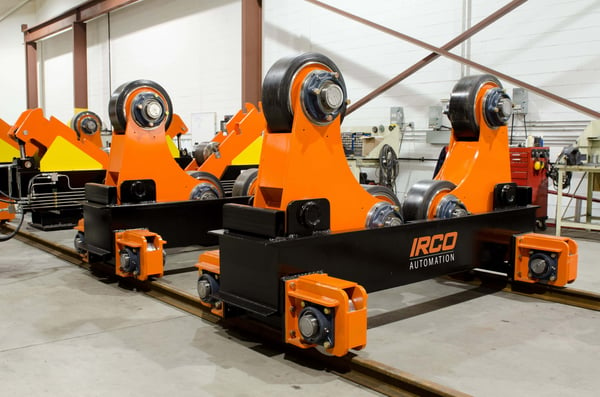 TRSA, Turning rolls with Fit-up System
For more information please contact:
www.ircoautomation.com | info@ircoautomation.com
800.742.1175