This month's featured product is IRCO Automations P3X 3 Axis Positioner. A product that allows us to explore and illustrate how traditional weld equipment can evolve to fit into a world of welding automation, robotic welding systems, and industry 4.0. Read more below!
Sections in this Post:


The Problem: You want something "more" but you're not looking for a fully automated line or system

...but what is there to bridge the gap between traditional and robotic?
If you've ever searched for weld positioning equipment before you've likely noticed that many companies around that world make and sell items such as positioners or turning rolls. IRCO Automation's line of standard product includes a catalogue of over 200 different standard product designs, for example, and beyond that, we also design and manufacture customized pieces of weld positioning equipment for extremely heavy loads.
While traditional welding positioning is still popular and used in manufacturing processes every day, the world around us has swiftly changed to one of technology, automation, and digitalization. Welding automation has steadily become more and more common in heavy industry and manufacturing lines as companies look for ways to improve safety, on-arc time, quality, and efficiency of the material handling process and cycle times component. Just as with traditional welding equipment, there is a diverse range of equipment, software, and devices that can help automate the welding processes.
As much as our team enjoys designing and manufacturing automated welding systems, we realize that not all welding processes need to be, or should be, fully automated. It's important for individual companies to review their welding and material handling processes and determine what their biggest challenges are and address those.* [see side note below]
Perhaps you've concluded that you're not quite ready for a fully automated system, but you need something "more" than the traditional welding equipment on the market. You'd like something smarter, perhaps with pre-programmability, or something with the ability to report metrics back to you...but what is there to bridge the gap between traditional and robotic?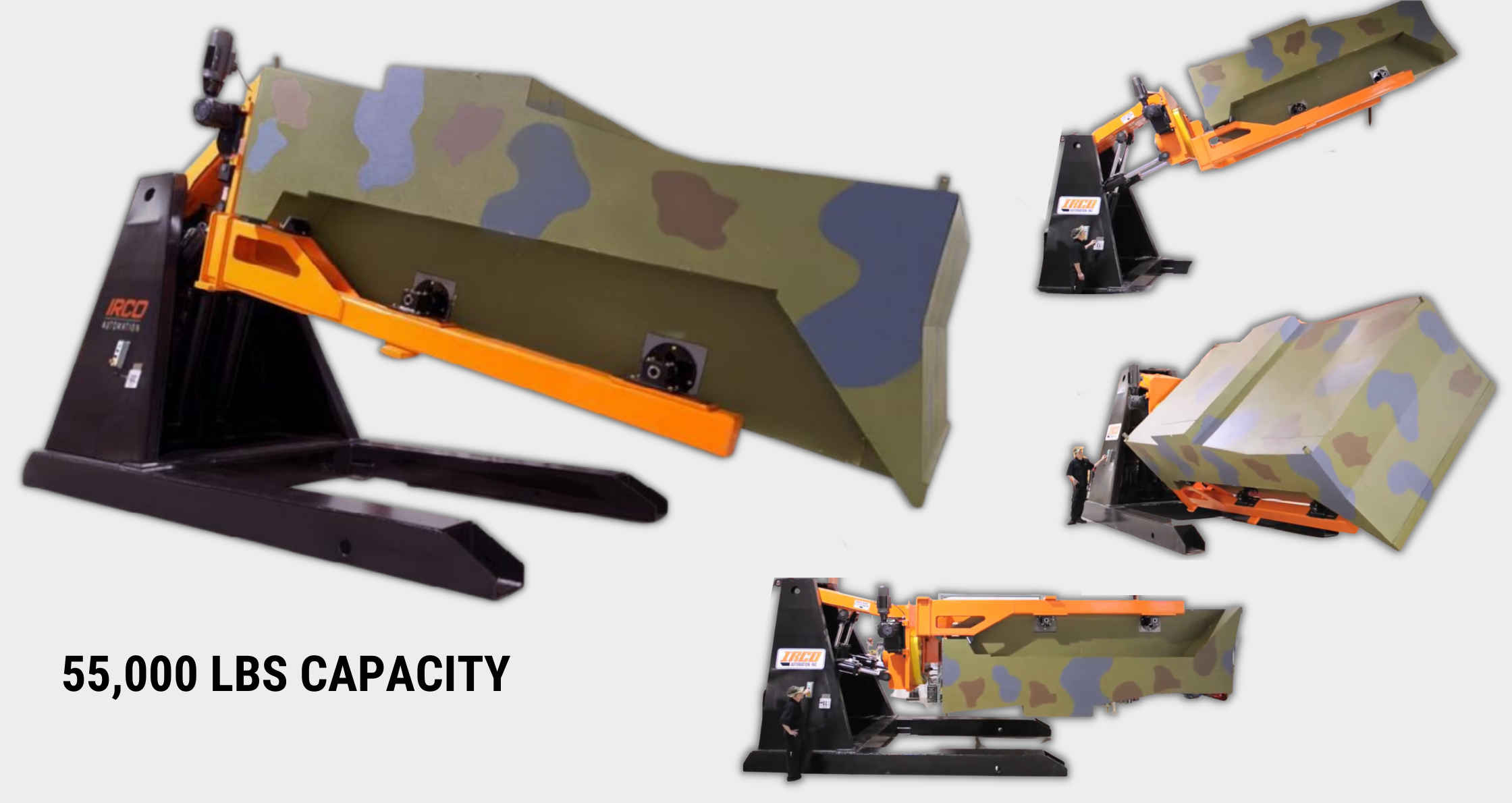 The Solution:
"Smart" weld Positioning Equipment
Example: IRCO's P3X 3 Axis positioner
Without sacrificing load capacity, we've taken our P3X positioners, a proven and popular piece of equipment for more than 60 years, and evolved it using modern controls logic to help bridge the gap between traditional manual equipment and robotic welding and automation.
Since the earliest days of IRCO's history, our P3X 3-Axis Positioner has remained one of our most popular positioners. Manufactured exclusively by IRCO, the P3X is a unique 3 axis welding positioner with an optional 4th axis. Designed to support heavier payloads at greater offsets than conventional positioners, the P3X's L-shaped beam design provides unsurpassed positioning accessibility. Fabricators of large equipment, use the IRCO P3X for heavy, complex weldments. The P3X is also used for heavy pipe spooling / pipe welding as it offers exceptional torque capacity and accessibility for set-up.
The pictures in this post, show the vast range of versatility possible uses for the P3X. The combination of its unique design and customized fixturing options allows the P3X to lift extremely heavy loads. Pairing two P3Xs together opens the door to even more options, with the synchronization of movements.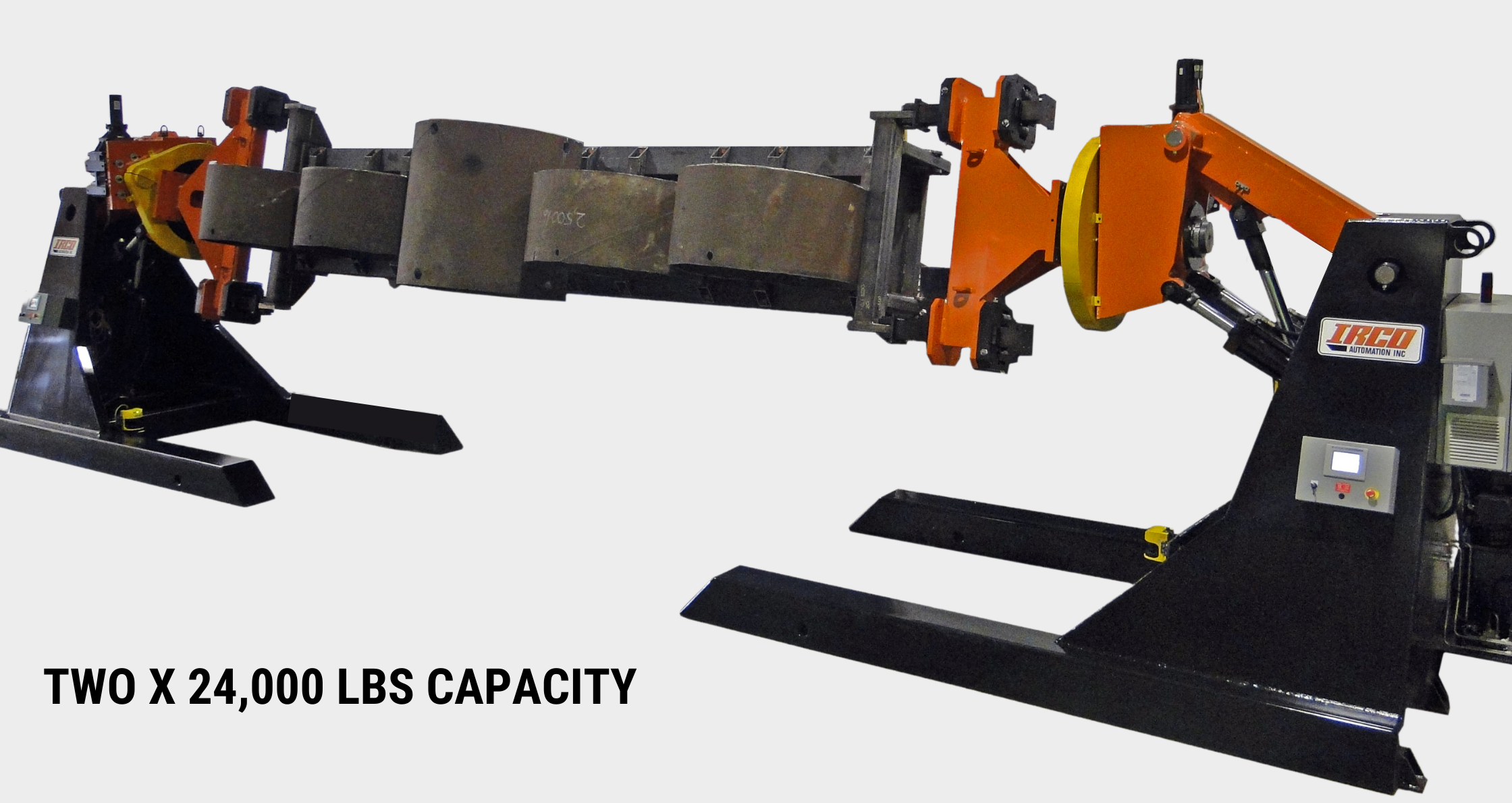 The P3X's lifting, tilting, turning, and rotation capabilities has made it a perfect solution for our customers in a wide range of industries, including Oil, Gas and Energy, Defense, shipbuilding, railcar fabrication, and mobile equipment manufacturing.
Integrated with smart positioning technology IRCO Automation's P3X's have evolved beyond the traditional equipment in the market that rely on manual move-to-place controls. Its optional PLC integration allows for pre-programmable positioning, while the addition of an HMI touch screens allows the operator to control all the mechanical axes of the piece of equipment from one place, as well as log parts and program sequencing for processes with repeated positions. This included technology enables the equipment itself the capability to give feedback on all its positioning axes.
Most importantly, this system's design maximizes worker and operator safety. The use of a 3-Axis positioner leads to less material handling, such as cranes, thus reducing the hazards associated with chains and slings when repositioning, flipping, or picking up parts. The additions of integrated area scanners and estop controls help to create a safe working window platform. This ensures that the positioner comes to an immediate stop should someone enter the "work zone" during operation, therefore reducing the risk of workplace injury.
Ready for the Future:
Equipped for Data Monitoring
The newest advancement in the evolution of IRCO's P3X 3-Axis positioners has been the option to equip new builds with the ability to be IRCOpulse™ – ready. If you ever decided to pair your P3X with a welding robot down the road, the IRCOpulse™ production monitoring tool will not only help you quantify efficiency and throughput improvements but can provide insights into production lines that can be used for scheduling, maintenance, and financial targets. This integration will ensure that your P3X is tied into your overall metric and data collection system, therefore making it possible to reach the rising demands of transparency, sustainability, and growth that are characteristic of Industry 4.0.

Recap:
Benefits of IRCO's Smart P3X 3-Axis design
Reducing Safety Hazards – less material handling, area scanners, and e-stop integration

Pre-programable positioning

Ability to log parts in relation to positions

Program sequencing for processes with repeated positions

3 or 4 axis options allowing for tilt, lift, turn and rotation capabilities

Feedback capabilities on all positioning axes

Optional IRCOpulse™ – ready integration allowing for production monitoring to provide metric and data collection to meet the demands of Industry 4.0.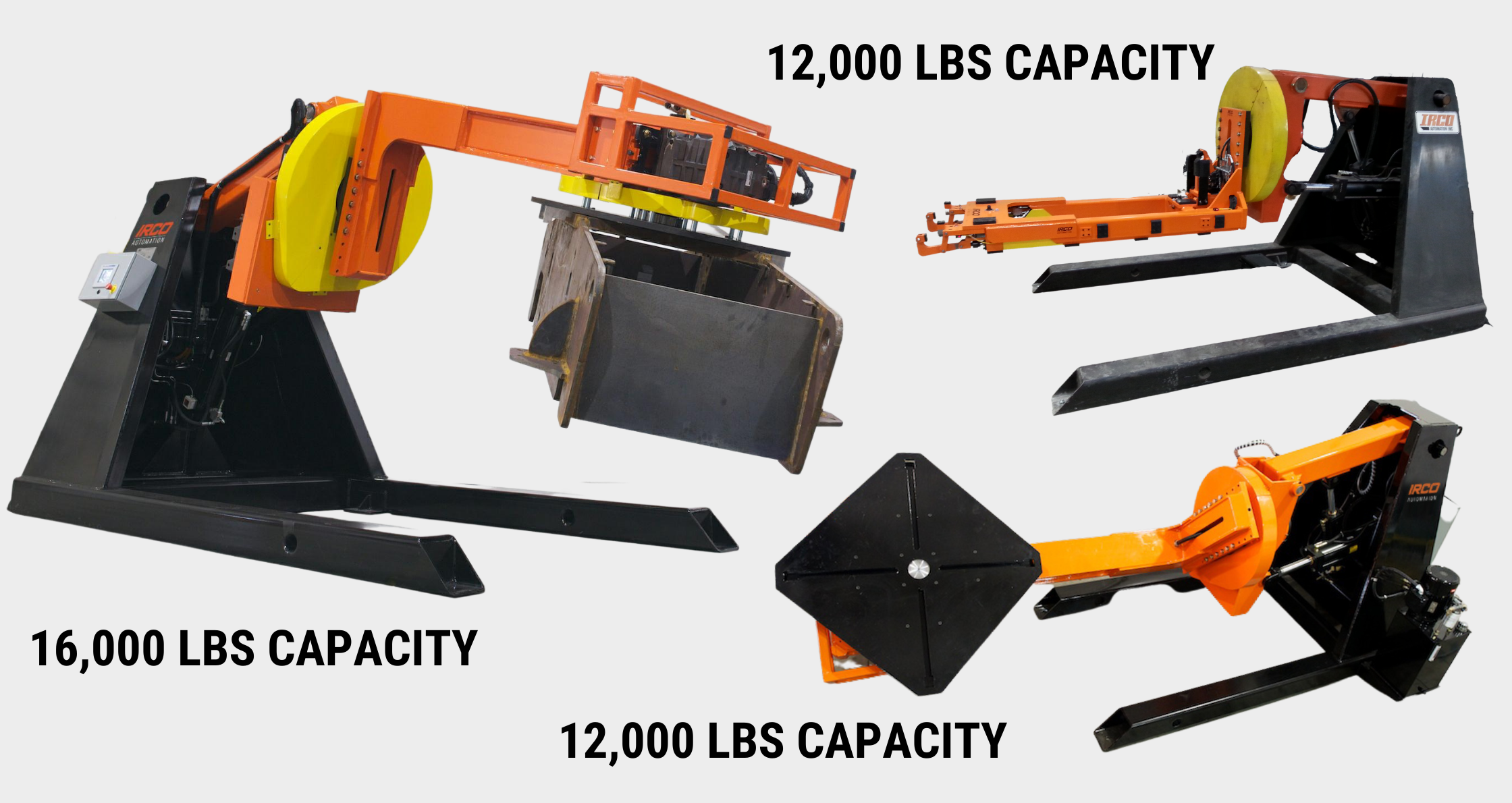 Conclusion:
Is there a place for Standard Product in the future? YES!
Here at IRCO, we are submerged in welding automation and robotic welding solutions every day but if you were if you ask us if we think there's a place in the welding world still for the traditional welding positioning equipment – our answer is 100% yes. The conversations we have, the range of customers we serve, and the number of inquiries coming for such equipment every day all point in the same direction– there is still very much a need, a purpose, and projects that require the use of turning rolls, tilt rotate positioners, 3-Jaw chucks, elbow jigs, etc. It's similar to the same way that there will be a continued need for hammers, table saws, or screwdrivers.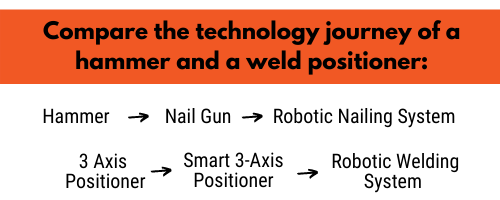 As with all equipment, tools, and technology, there's an evolution for greater efficiency and capability. Our team at IRCO Automation is proud to carry our legacy of standard products forward while also providing solutions and equipment that can make your welding process "smarter", semi-automatic or fully automatic. To learn more about our theory of Walk, Crawl, Run that explains the types of Welding Automation available, check out this blog. evolve to fit into a world of welding automation, robotic welding systems, and industry 4.0.
*Side notes from Above
Giving clarity around the challenges you have identified in your manufacturing process (material handling and/or welding) and identifying your greatest pain points can help provide clarity as to which part of your process would benefit the most from automation. Being able to articulate the problem that needs to be solved and the effects it could have on other parts of your process are an essential first step before investing in a welding cobot, welding robot. In our perspective, there are different levels of welding automation – and it's important to find the best fit for your company. (Learn more here: What Different Types of Welding Automation are there?).
What's Next?
Ready to get started? Or have specific questions?
Connect with our team about your project by either:
Filling out

this form

and providing a few details
Or,

book a phone/video call

with one of our welding automation specialists at a time that is most convenient for your schedule
Looking to learn more?
Check out these resources: