Where does Weld Production Monitoring Fit into Recovery and Reinvention?
[Part 1 of a 5 part series: Introduction to Series]
Originally shared in WELD Magazine's Fall 2020 Edition, IRCO Automation and IRCOpulse explore Weld Production Monitoring in a time when many companies are and were faced with a period of recovery and reinvention. Click the links below to jump to the other parts of this series.
Posts in this series:
PART 1:

Introduction

PART 2

: What does true production monitoring look like in the world of Industry 4.0?

(Coming May 4)

PART 3:

What does production monitoring mean for Welding Automation?

(Coming May 11)

PART 4:

Areas Weld Production monitoring can provide insight to

(Coming May 18)

PART 5:

What to consider when choosing a production monitoring system

(Coming May 25)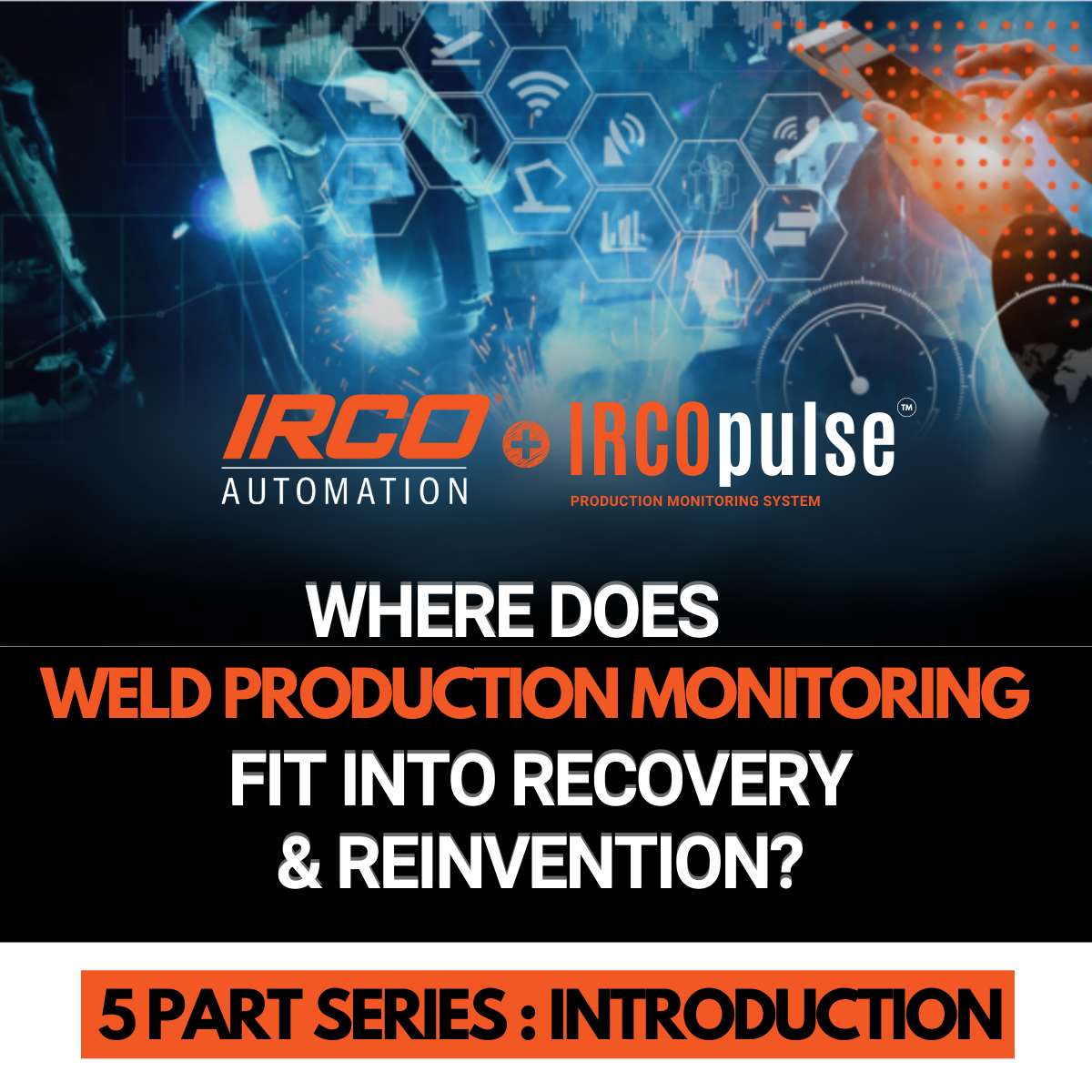 Introduction to this series:
The year 2020 has forced many companies to ask tough questions and make difficult decisions. Companies are being challenged to reopen, resume work, recover losses, and remain competitive through lockdowns and social distancing. The journey of reopening and recovery has forced many companies to adjust and make changes to their operations.
While many factories have managed to continue production throughout the global shutdown, many others have experienced supply chain interruptions or even suspension of their operations, and production pipelines have been emptied. Most importantly, due to new personal distancing guidelines and economic pressure, most businesses have had to make drastic changes to how they utilize their workforce. Some jobs will disappear altogether, but many others will require rethinking of how people work with technology and with other people. If a manufacturing company wasn't looking at automation before, it's probably high on their radar now. Studies are showing that the pandemic and recession of 2020 will force companies to invest in automation with new urgency.(1) Perhaps manufacturing companies won't ever bring back the same number of people as before.(2)
As the presence of automation increases, so too does the reliance on production monitoring software. The Business Information revolution and big data are meeting industry head-on as companies are using new tools (such as machine learning) to analyze the performance and efficiency of their manufacturing operations. Data has simply never been so important. Traceability and transparency are absolutely vital throughout the entire production cycle, from procurement to manufacturing, assembly, material handling, and logistics. Questions arise, such as: Do we have the right equipment? Do we have the right people in place and training protocols? Have we made the right investments and decisions? Welding is no more immune to this scrutiny than any other stage of fabrication processes.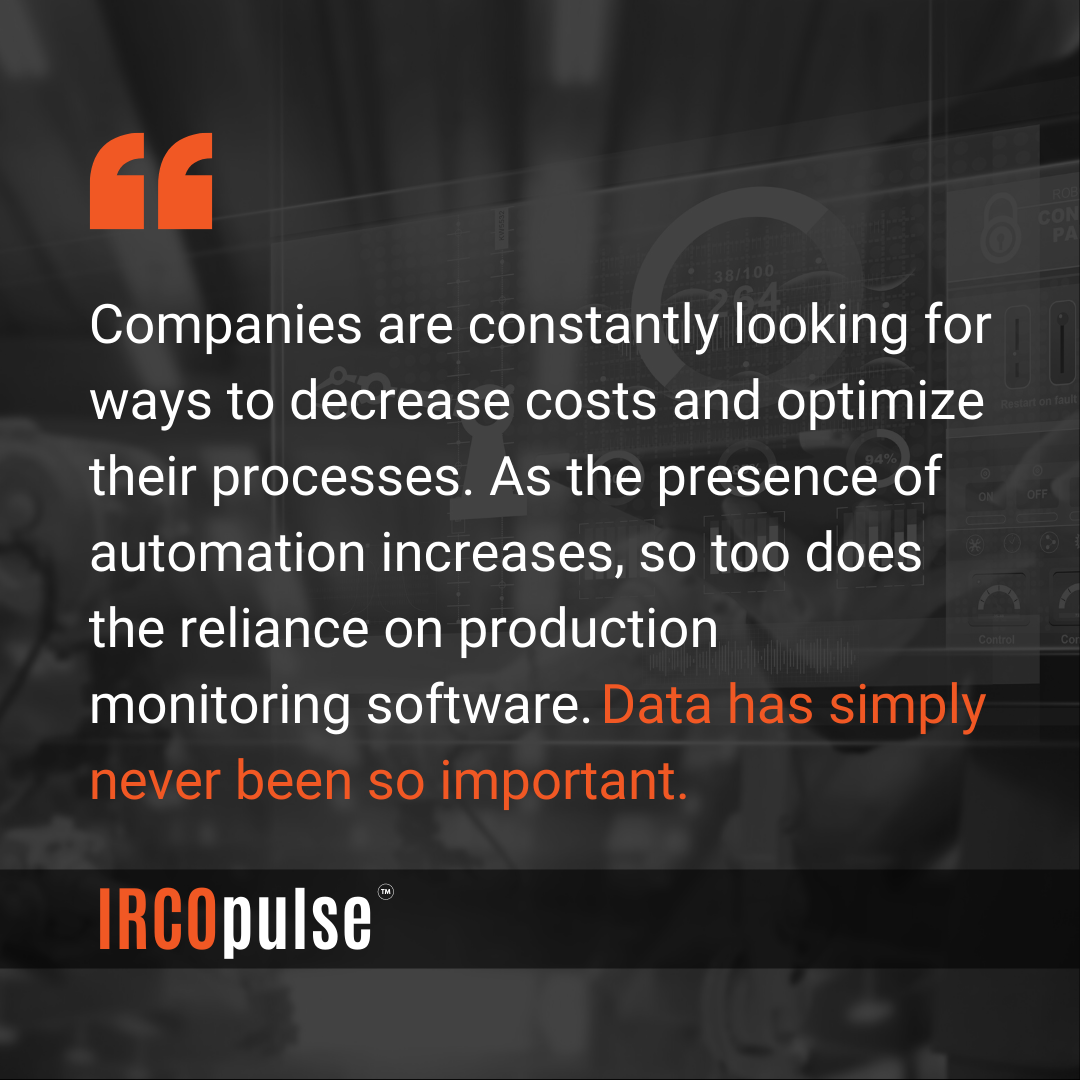 Coming Soon - Part 2: What does true production monitoring look like in the world of Industry 4.0? (Coming May 4)

Contact Us & Related Content
For more information about IRCO Automation's automated welding solutions, visit the Welding Automation page on our website. Connect with our team by sending us an email at: info@ircoautomation.com
Looking to learn more? See the following Resources:
Sources: (1)Forbes, 2020, https://www.forbes.com/sites/simonchandler/2020/05/12/
coronavirus-is-forcing-companies-to-speed-up-automation-for-better-and-forworse/# 176595e65906 (2) Forbes, 2020, https://www.forbes.com/sites/shahinfarshchi/2020/04/10/expect-
more-jobs-and-more-automation-in-the-post-covid-19-economy/#1e93acdc29b4