Automation, robotics, and optimization are some words that have caught the attention of manufacturers around the world. Recently, our team did a Q&A session about Welding Automation which was featured in both Manufacturing Automation and Robotics Insider.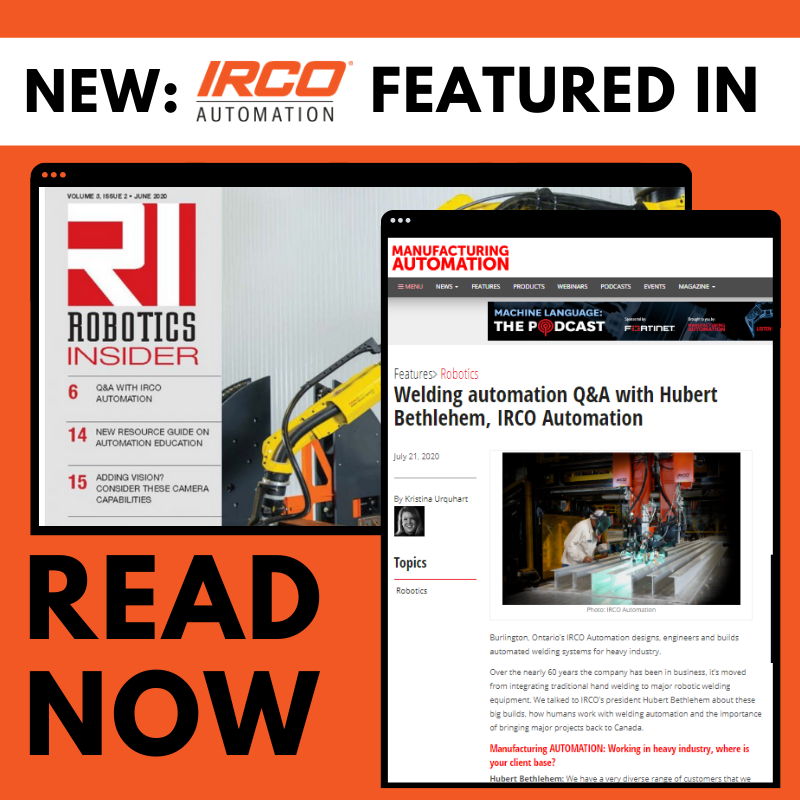 Click here to read more!
Key questions explored in this article include:
What's our experience working with different industries? What's our experience working with Small to Medium sized companies and Fortune 1000 companies?
With these large-scale installations, what do manufacturers need to be aware of in terms of safety?
What are some of the barriers to implementation of the automation? How does your team work to overcome them?
Does IRCO work with specific vendors for the robots?
Where does IRCO Automation build our automated welding systems? And, how do we ship these systems?
Where does the human welder fit in with automated welding systems?
What new technologies in welding automation have we seen over the past couple of years? What do we see becoming big trends going forward?
And more about automatic welding, robotic welding systems, welding technology, and welding applications.
Our team as IRCO Automation is ready to help provide solutions to the challenges you're facing! Connect with our team today by filling out a form here or scheduling a call with one of our automation specialists.
If you are interested in learning more about welding automation check out the following resources:
About IRCO Automation Inc.
Since 1963, IRCO Automation® has been designing, engineering and manufacturing integrated welding automation solutions and weld positioning equipment. For more information about weld positioning equipment or welding automation solutions for heavy industry, visit our website to learn more.