What comes to mind when you hear the term Automated Welding System? Notions of inaccessibly high-tech or financially impractical systems are a common misconception that may lead manufacturers to overlook game-changing equipment and radical process improvement.
But how can we separate these skeptical first impressions from the reality of modern-era automated systems? In this blog, we'd like to use our industry knowledge and experience to address and break-down some of the most common myths and misconceptions about automated welding systems.


Misconceptions / Sections covered in this blog:
[Read more in detail below the infographic]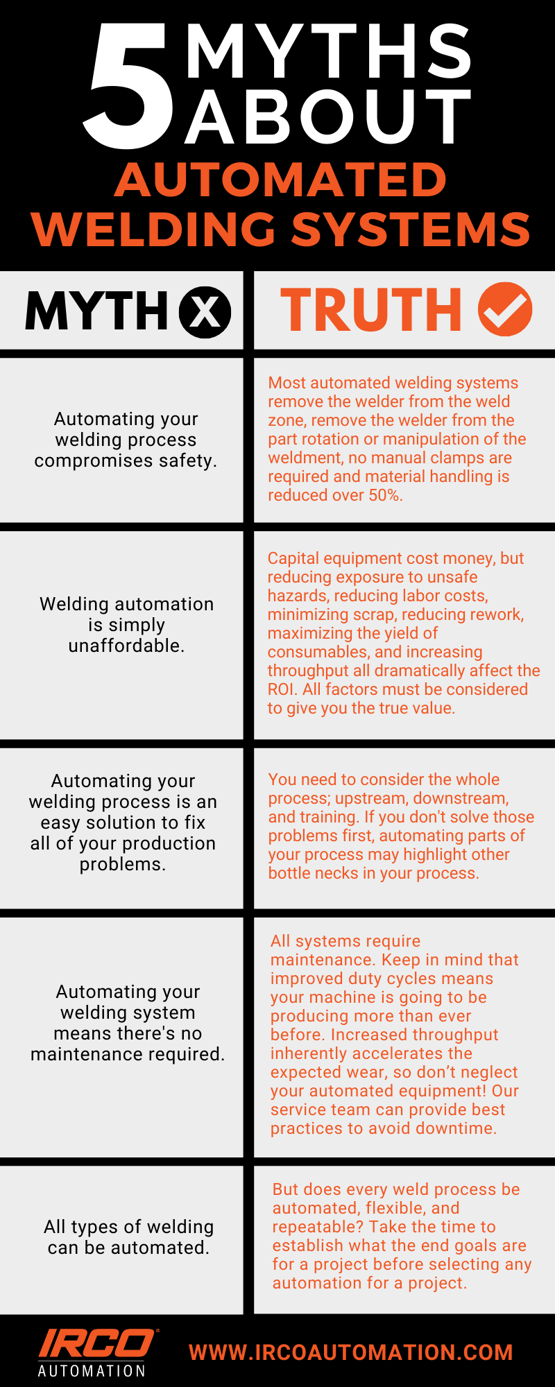 MYTH #1: Automating your welding process compromises safety.
It is easy (and important) to associate large equipment that moves heavy components with an inherent sense of danger. With efficiency and production throughput at the center of focus for modern companies, increased emphasis is now being put on making these monstrous machines move fast. Not only are they big, but now they are expected to start, stop, and weld without warning? How exactly is this safer?
One thing to remember is that the advantages of implementing automated welding applications are two-fold. The very processes that introduce (or exacerbate any pre-existing) hazards are inherently removing operators from dangerous situations. Welders are removed from the weld zone, drastically reducing their exposure to large moving components, rigging, welding fumes, arc flash, and ergonomic difficulties. Excluding workers from hazardous situations is enforced through a combination of sensors, barriers, shielding, and monitoring systems that ensure the highest level of safety is provided with every welding automation solution. The same technology that can amplify efficiency and throughput by reducing material handling by over 50% could also make your plant safer without compromise.
To help mitigate the risks and potential safety hazards, our team believes safety needs to be part of the design and that training is always one of the most important components of your investment to automation. To learn read: Welding Automation and Safety: What you need to know.
MYTH #2: Welding Automation is
simply unaffordable.
Automating your production lines seems like a nice idea but doing it on a budget is borderline utopic. Upgrades cost money, and capital equipment doesn't pay for itself. Or does it? A common misconception about automated welding systems is that they are simply unaffordable in all but the highest-volume situations. Unfortunately, the value of an automated welding system is so much more than the initial price tag versus the reduction in manhours. Reducing exposure to hazards, maximizing the yield of consumables, minimizing scrap, reducing rework, and improving throughput are all factors that must be considered when evaluating an automated system's ROI.
IRCO Automation also understands that not everyone needs a turnkey robotic solution. Luckily our crawl/walk/run approach to process improvement allows us to tailor our offerings to our customer's specific needs. Automating your weld process can be as simple as fixturing your torch in position, or as complex as a fully-integrated material handling, fit-up, and welding solution. In this way we can always assure that the price tag is reflective of your specific needs regardless of complexity.
SIDE NOTE: Figuring out the exact value of one of these systems sounds like a headache, so luckily you don't have to do it alone! All of IRCO Automation's design solutions come IRCOpulse™-ready. This production monitoring tool will not only help you quantify efficiency and throughput improvements but can provide intangible value through insights into production lines that can be used for scheduling, maintenance, and even end-product cost justification.
MYTH #3: Automating your welding process is an easy solution to fix all of your production problems.
In an ideal world replacing a problematic section of your production flow would solve all of your problems. This is however rarely the case. Frequently fixing bottlenecks can lead to the discovery of other bottlenecks preventing you from operating your automated solution at its full capacity. An upgrade is crippled in it's ability to add value if other upstream or downstream processes throttle your flow and simply can't keep up. That is why it is critical to evaluate the impact of improving one area on all surrounding systems. If you don't solve these problems first, automating is going to be a never-ending loop of inefficient investments being used to a fraction of their full potential.
Consider these questions:
What is our reason for wanting automation?
Are there challenges in our manufacturing process? Why? 
What is holding us back from improving our process?
What are our true costs of manufacturing right now?
What movements and positioning are part of our process?
What are our KPIs, desired cycle times, or parameters around our weld process
Before selecting an area to improve, understand the dependencies of that station and the downstream ability to handle a higher output. Take a moment to reflect on your manufacturing process and determine what your most significant challenges are. Once your system is installed, ensure your operators are properly trained to use the equipment to its full potential; safely and efficiently. In this way, you will not end up with an expensive automated solution that performs comparably to the system that was replaced.
MYTH #4: Automating your welding system means
there's no maintenance required.
While automated systems get the most bang for your buck in terms of wear reduction, the proposition that they require no maintenance is simply untrue. What they offer is a drastic reduction in wear resulting in fewer consumed replacement parts and less frequent preventative maintenance. There are many ways in which automating a process improves component lifespan: smooth starting and stopping of moving components prolongs the life of brakes and drive equipment, applied forces can be precisely controlled to reduce unnecessary mechanical/electrical losses, and operator error is effectively eliminated. These are just a few of the many ways that automated welding solutions reduce the amount of required maintenance.
Keep in mind that improved duty cycles means your machine is going to be producing more than ever before. Increased throughput inherently accelerates the expected wear, so don't neglect your automated equipment!
MYTH #5: All types of welding
can be automated.
As the classic quote from the 1993 blockbuster Jurrasic Park states: "Your scientists were so preoccupied with whether or not they could, they didn't stop to think if they should." The sentiment resonates in many situations; welding included. Theoretically any process (or weld procedure) can be automated to some extent, but why should some welds be automated, and others shouldn't? It all comes down to establishing and understanding the goals of the project and recognizing where welding automation can provide value.
If you understand your goals, you can identify the areas that would benefit the most from the flexibility, repeatability, and quality improvements that are assured through automation. In some situations, we simply don't care as much about these factors between different joints and across different parts. In understanding the higher-level project goals you are making the most efficient use of your hard-earned capital by making smart investments that are sure to pay dividends! Simply stated, we can but sometimes we shouldn't.
What's Next?
Ready to get started? Or have specific questions?
Connect with our team about your project by either:
Filling out

this form

and providing a few details
Or,

book a phone/video call

with one of our welding automation specialists at a time that is most convenient for your schedule
Looking to learn more?
For more information about welding automation, check out the following resources: