Our team at IRCO Automation has had the opportunity to work with some of the most experienced beam manufacturing companies in the nation and one thing we've noticed is that all of them share similar key pain-points that they're looking to welding automation to help solve:
needing to maintain a consistent weld profile
needing consistent welding process parameters
minimizing beam deflection due to heat
overcoming beam deflection during welding
As talk of infrastructure renewal is fresh on everyone's minds, we thought we'd take a moment to talk about Automated Beam Welding systems and share a few examples.


Break down of sections in this post:

Quick Guide: Automated Beam Welding Systems

Type of Beams:
Steel beams are used for so many different purposes in the world around us: structural steel for building frames, bridges, cranes, heavy equipment booms , attachments, etc. I bet right now, if you look around you, you'll be able to spot one.
Steel beams can be classified based on a few different elements but their end purpose and the total effect of all the forces that will be on a beam, dictate several elements important to the engineering and manufacturing decisions. Some of those variables include, shape, material, and weld process required.
Here are just a few examples of common shapes: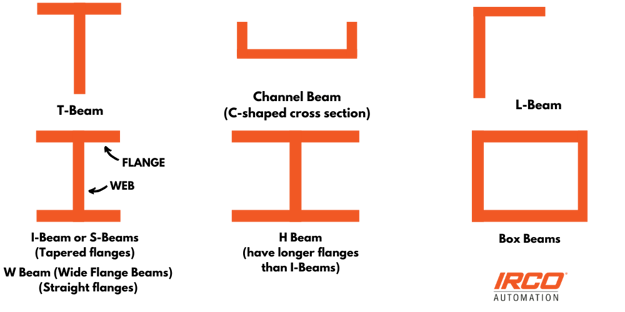 Your first thought when looking at this profiles may be, "Wait, aren't most of those examples of rolled sections???" And that's true, but welding these pieces happens in some circumstances. The processes for fabricating the welded version of these profiles are vastly different and there's more risk involved when compared to rolling. That's where automation provides a real advantage; reducing safety hazards while providing consistency, quality, repeatability, and throughput.
Things to consider with automated beam welding:
A seemingly simple steel beam can help ensure a structure standing strong for years when it correctly produced. Reversely, one bad beam can cause an entire building to cripple. Fabrication of the steel beams may not be the most complicated part of your project, but it's an important one. Regardless of whether you're fabricating steel beams for a building, a bridge, a crane, or other project, integrity of the beams is critical.
Steel beam fabricators need to take into consideration a variety of factors to ensure that the beams they produce meet the needs of the application and relevant standards. Ensuring that they have developed the correct weld process is a big part of this.
Welding Automation has become increasingly popular in the welding process of steel beam fabrication. There are a variety of options (customized and generic) on the market promising different benefits, optimizations, or process improvements. Without a doubt there's equipment, software, and technology out there that could have profound positive effects on your manufacturing and fabrication process. But before jumping in, break your process into different parts and answer a few key questions.
For example:
What is our reason for wanting automation? (For example, do we want to increase through put, are we struggling to find qualified welders?)

Are there challenges in our manufacturing process? Why? 

What is holding us back from improving our

process

?

What are our true costs

of manufacturing

right now?
Also, consider the actual welding and positioning/material handling aspects of your process as two separate entities.
K

nowing

your weld procedure inside and out, your KPIs, the

parameters

around your welding process, and desired cycle times will help

determine

the scope of automation best suited to your needs.

Considering the movement and positioning of the workpiece is an important step for designing the movements of the system
Therefore, when choosing a company to design, manufacture, engineer and build your system for your process it's important to look for a company that meets the following criteria:
The

company takes

the time to understand your project and application

Th

e company

want

s

to know what your weld process is and designs according to it

Th

e company

ha

s

experience

with a range of welding automation types

The company

has

experience

with a range of beam types

The

company

can

provide references
Learn more about welding automation here.
Examples of automated beam welding systems:
The type of welding automation best for your manufacturing and fabrication process will be determined by the answers to questions (like the ones listed above) in the first stage of our project journey together.
Automated beam welding systems vary depending on the type of beam being welded, the weld process, and on different aspects relating to a company's ROIs.
Here are a few examples to show case the range of options, sizes, types of automated beam welding systems possible.
(Video below: Welding Automation for Beam Fabrication)
Robotic Beam Welding Systems

Key: Autonomous systems
Axes: typically 6 or more axes
Weld mix: best for high volume, challenging path or profile welding processes
Beam types: beams with multiple joints, pockets, or various positioning demands

Linear Beam Welding Robots

Key: Offer programmable path, multi-pass functionality with a simpler interface than a fully robotic welding solution
Axes: when less than 4 axes are required
Beam types: box beams, T-beams, H-beam, L-beams

Pull Through Beam Welding Systems

Key: can automate the welding sequence right through to completed welding
Axes: when less than 4 axes are required
Beam types: Ideal for beam welding applications requiring high volume throughput. Typically not used for multi-pass applications, welding gantries (below) are better suited to high deposition applications

Welding Gantry Systems

Key: Able to provide longitude welding for large spans. Popular features include multiple torch heads, tacking, and cutting.
Axes: when less than 4 axes are required
Beam types: ideal for joining web to flange in the horizontal position when multiple passes or heavy deposition welds are required
(Learn more about the different types of welding automation here.)
The Benefits of Automated Beam Systems:
There are several process improvements and benefits that welding automation can help provide for steel beam fabrication. IRCO Automation's automated welding systems are designed to meet each customer's specific needs, with the ROI at the center. As each customer is unique, the solutions IRCO designs and the benefits they offer range from system to system. Some of the challenges an automated welding system can help address in the welding portion of beam fabrication are:
Reducing safety hazards

Increasing productivity

Providing greater repeatability

Improving weld quality

Reducing cycle times

Shortage of qualified welders
Beam welding systems video:
Watch this quick video to see some examples of different automated beam welding systems in action that IRCO has designed, engineered, and manufactured recently.
What's Next?
Ready to get started? Or have specific questions?
Connect with our team about your project by either:
Filling out this form and providing a few details
Or, booking a phone/video call with one of our welding automation specialists at a time that is most convenient for your schedule
Looking to learn more?
Check out these resources: