Did you ever watch that show on the Discovery channel or Science Channel called How It's Made? They would take some of the most random items, such as aluminum foil, contact lenses, glasses, pistons, etc., and in a quick episode breakdown how the basics of how it was manufactured. A lot of the products were made with some sort of automated system.....But did you ever wonder while watching, "How on Earth does that system work?" Maybe you'd wondered that same question about automated welding systems...."How on Earth does that work?" In this post, our guest writer, Steve, breaks down the 4 key components of an Automated Welding System. Read further to learn more!
Sections in this post: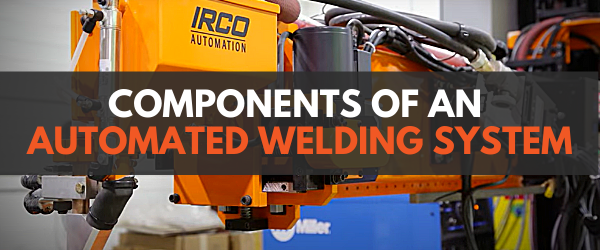 Components of an

Automated Welding System

An effective automated welding system requires the harmony of many components working together to deliver the enhanced throughput and quality results. It is vital for the team designing, engineering, and manufacturing your automated system to have knowledge and experience with each of these components to ensure proper selection of customization for you based on the specific application you have at hand.
The four main components of an automated welding system include the weld equipment, part positioning equipment, placement of the weld torch, and the control system.
1. Weld Equipment
The cornerstone component for every automated welding system is the weld equipment. Weld speeds and deposition rates can often dictate the type of process that is required, but there are many cases where new technologies can challenge the norm. How can newer pulse programs assist with thermal distortion issues? Is weld spatter causing unnecessary downstream cosmetic rework? Is there a high deposition GMAW process alternative to subarc and its flux management? It's important for the automation specialists involved with your design to understand what you need and be able to present back to your technology and options that will help you meet your end goals.
2. Part Positioning equipment
Part positioning equipment is often pivotal to an automated (or manual) weld system as it allows for optimal joint orientation. Typically an automated welding system will incorporate highly repeatable programmed positions which can be commanded by the control system. Equipment selection is dependent on the part size and complexity as well as the variety of orientations required – from a single axis headstock or turntable to a multi-axis skyhook or beam positioner.
3. Placement of the Weld Torch
Equally crucial to part positioning is the placement and orientation of the weld torch. Depending on the variety of joints to be welded, the torch may be static (for a part-to-process setup) or require one or more axes for position manipulation. The requirement of joint tracking is also an important consideration – for example, is the joint in a straight line, or are there path deviations that need to be accommodated in real-time during weld?
4. Control System
Tethering all these components together is the overall control system and operator interface. The design of the control system is largely dependent on how much operator interaction is desired with the automated system. Will the system run with predefined limits that can be overridden by the welding operator within the WPS parameters? Or is the operator only responsible for loading and unloading parts into and out of the system? Multiple scenarios can be considered depending on the availability of skilled personnel.
(To learn more about the different levels of operator interaction, check out this post on What different Types of Welding Automation Are there?)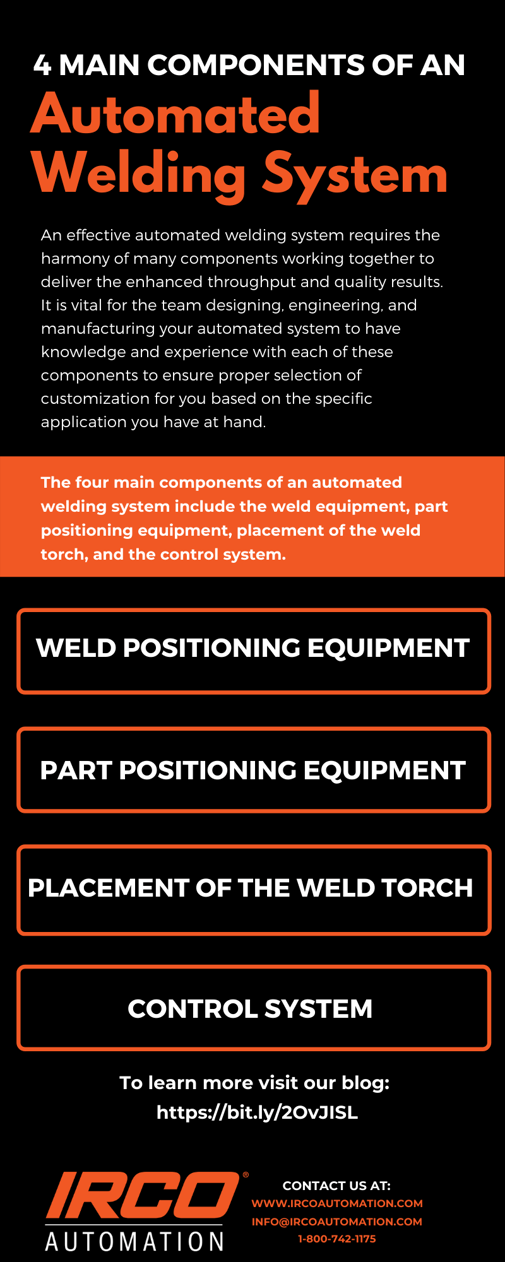 What's Next?
Through IRCO Automation's 60+ years of developing Automated Welding Systems, we have become adept at recommending and deploying the best configuration of equipment for our customers. If you're ready to connect with one of our automation specialists, email us or schedule a time to chat.

Looking to learn more? Take a look at the following resources: