SERIES:

Where does Weld Production Monitoring Fit into Recovery and Reinvention?
PART 3:
What Production Monitoring Mean for Welding Automation?
Originally shared in WELD Magazine's Fall 2020 Edition, IRCO Automation and IRCOpulse explore Weld Production Monitoring in a time when many companies are and were faced with a period of recovery and reinvention. Click the links below to jump to the other parts of this series.
Posts in this series:
PART 1:

Introduction

PART 3:

What does production monitoring mean for Welding Automation?

PART 4:

Areas Weld Production monitoring can provide insight to

(Coming May 18)

PART 5:

What to consider when choosing a production monitoring system

(Coming May 25)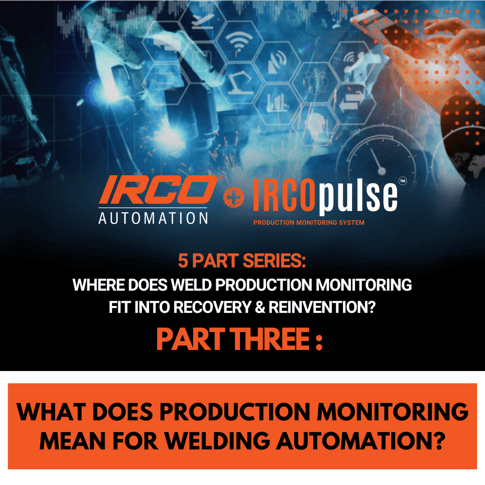 What does Production Monitoring mean for Welding Automation?
What is Welding Automation?
Welding Automation was initially born from the automotive world and has spread outwards, steadily becoming more and more common in heavy industry and manufacturing lines. There is a diverse range of equipment, software, and devices that can help automate the welding processes. Companies may choose to invest in automated welding for a variety of interrelated reasons: to reduce safety hazards, increase productivity, provide greater repeatability, reduce cycle times, improve quality, (as well as manage physical distances).
[Learn more about Welding automation : Here]
Many companies are also interested in welding automation as it addresses the looming shortage of qualified welders in North America.1 Welding automation is about more than just the arc time, it is also about improving safety, quality, and efficiency of the material handling process and cycle times component.

Benefits of Welding Automation
We've invested in Welding Automation but now what...?
Critical questions impact the design and engineering of a welding automation solution – next level production monitoring provides real-time flags for interdependent questions once the system is installed;
How do I know our equipment is performing at its highest level?

What is holding us back from improving our weld quality?

Why are we failing to meet our production quotas?

Where are there bottlenecks?

What are our true costs?

How can we produce less scrap?

Are our operators meeting our daily arc-on goals? If not, why?

Am I able to determine if our faults, errors, or rework are due to operator error or mechanical failure? And how do we fix them?

How much time do our machines lay idle between shift changes, AMs and PMs, or breakdowns?

Is the performance of our automated welding system in sync with upstream and downstream equipment?

Are there challenges in our manufacturing process? Why?
Areas Weld Production monitoring can provide insight to

(Coming May 18)

Taking your investment in Welding Automation those extra steps further...
Without a controllable process and the data on which to make good decisions, companies are not capturing profound insights that can lead to optimization and cost-saving opportunities. Automated production monitoring and the digitalization of data for welding automation is, for some companies, either the logical (or essential) next step to improve inefficiencies in their process. Collecting data to understand what is going on in their welding process, or each welding cell provides a company with critical information when looking to improve quality, throughput, and productivity.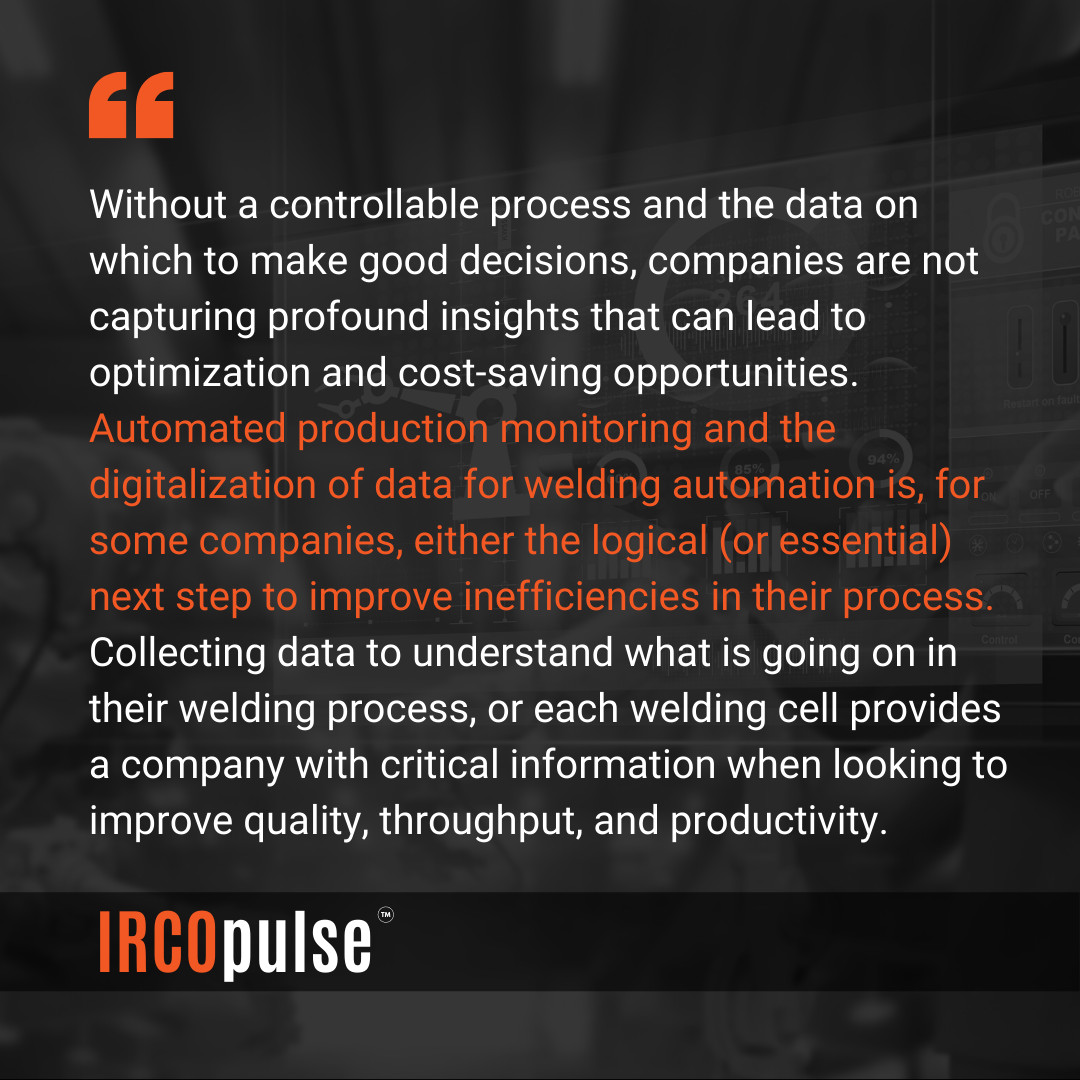 Sources: Canadian Welding Bureau, 2019 (https://www.cwbgroup.org/about/newsevents/ news/2019/cwb-welding-foundation-impact-report-now-available) and The Fabricator, 2019 (https://www.thefabricator.com/thefabricator/article/arcwelding/the-truth-on-welder-pay)
Coming Soon - Part 3: Areas Weld Production monitoring can provide insight to (Coming May 18)

Contact Us & Related Content
For more information about IRCO Automation's automated welding solutions, visit the Welding Automation page on our website. Connect with our team by sending us an email at: info@ircoautomation.com
Looking to learn more? See the following Resources: